With all the 14 state champions and 2 wildcard teams converged in one single room fighting out in a gruelling 8-hour energy-sapping series of matches, for this year's U Mobile MLCC Season 3 (UMMLCC S3) National Championship, one outstanding victor emerged from what will be known for seasons to come, As the Most Intense Campus Mobile Legends Competition Ever!
This year, U Mobile proudly crowns team UiTM Vendetta from UiTM Shah Alam as 2021 UMMLCC S3 National Champion with a grand prize worth RM10,000 cash, 5520 in-game diamonds and special gifts of STM Powerkick worth RM1,500.
This slideshow requires JavaScript.
Muhammad Nabil the ecstatic team leader, had this to say about the finals," I am extremely proud of the achievements of my team for the UMMLCC S3. Even though we lost at the state qualifiers, we bounced back stronger at the wildcard stage and became champions for this tournament. I would also like to thank U Mobile for holding this competition and giving us the opportunity to participate."
"We were extremely lucky to meet Team XTINCT from Universiti Kebangsaan Malaysia (UKM) in the finals. Team XTINCT is truly a formidable opponent and were extremely close on multiple occasions in gaining the upper hand during the match. However, luck was not on their side, and they just about marginally lost to team UiTM Vendetta."
Team leader of XTINCT said, "It is a good start for us as this is our first UMMLCC tournament. I am extremely proud of my team as we managed to come in first place in all the matches until we got to the final match at the national level."
Malaysia's popular MPL casters, Ikuto and Chu Chu, who has been trailblazing in the eSports world, returned to host this year's competition. The dynamic duo, once again, gave an astounding performance raising the temperature during the live commentary throughout the 2-day final tournament. Their astute showmanship gave the competition an added "oomph" that could only be topped by an international tournament. Teams taking part were totally impressed by their presence and saluted the whole event that was conducted professionally to the extent of labelling it a "Campus MPL" event.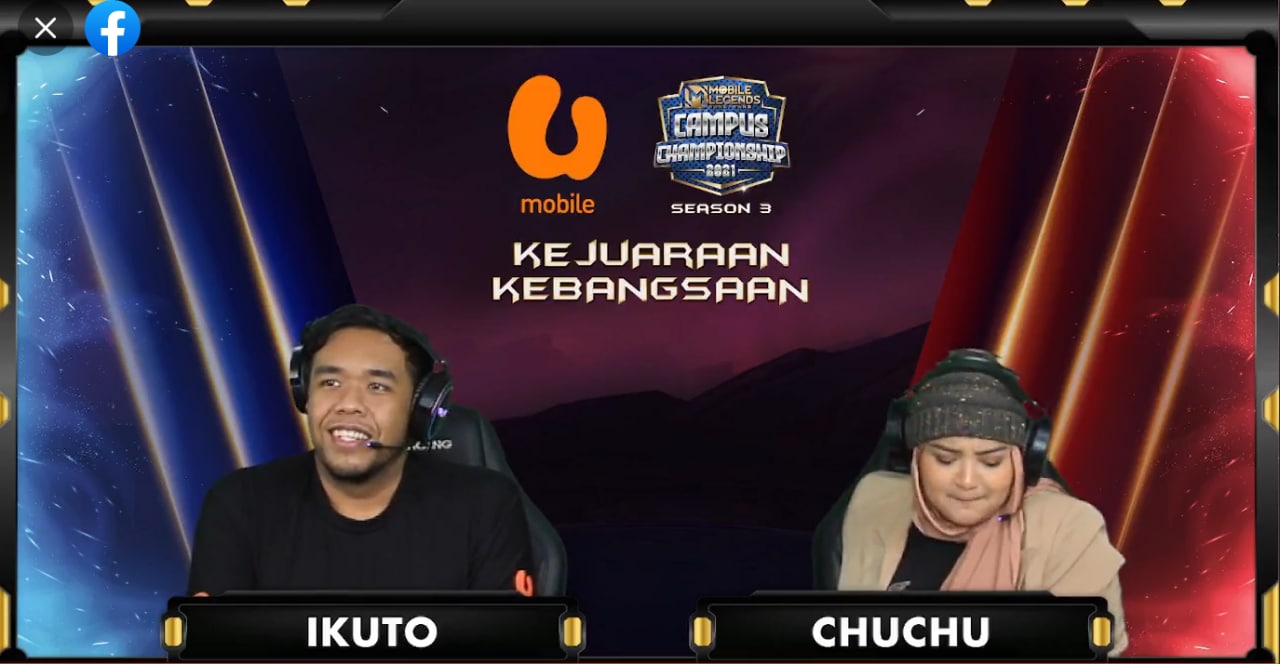 UMMLCC S3 finals were held over 48 hours, with rounds 16 and quarter-finals on the day while semi-finals and the finals were on day 2. Both days stream was broadcast on U Mobile MLCC's official Facebook page which drew legions of university fans, glued to their screens and rooting for their favourite teams from noon till evening.
Representing U Mobile, Mimi Wong, Segment Marketing, said "U Mobile is proud to have hosted Mobile Legends Campus Championship for 3 consecutive years with overwhelming responses and anticipation from campus students nationwide. This season, we see more University heads and students, have taken the competition very seriously with campuses organising mini UMMLCC tournaments within their campus to select the best team to take part in the competition. U Mobile has always been at the forefront in nurturing our Malaysian youth's passion especially in the eSports segment which has been growing in popularity and will likely surpass traditional sports in the near future"
Hailed as the largest University eSports campaign ever to be held this year, the competition attracted an unprecedented number of teams, surpassing season 2 with a total of 304 teams taking part, spanning from all corners of the country across 5 zones, including Central, Northern, Southern, East Coast and East Malaysia. The eye-catching total prize pool for Season 3 with an impressive amount of RM 60,000 including 32,520 diamonds, prizes worth RM5,000, and side activity for all students that included cash prizes as well.
Separately the nationals were also officiated with the High School Edition, which for the first time was held across all 5 zones with over 160 teams taking part in the tournament. With first come first serve registration, students who did not get to participate has voiced their interest in the next tournament by U Mobile. This year, the winning team, GG eSport, from East Coast Zone, with their first debut in competitive eSports, won first place for the High School Edition, walking away with RM1,000 cash with 500 diamonds.
Outstanding University Performance
Capping the finals was the inaugural U Mobile University Award or UUA, which was conceptualized to recognise the Most Supportive University throughout the competition. The category witnessed a broad range of institutions taking part, including Polytechnics, Universities, Colleges, and Vocational institutions.
There was a tough decision in selecting a winner as all states were strongly represented and fulfilled the set criteria; Numbers of GoPayz download for each university, Share and Post UMMLCC posters on university Social Media, and get as many students from campus to watch the tournament via Facebook Live. Finally, UiTM Campus Rembau took the bragging rights as UMMLCC Most Supportive University for 2021 as the campus showed exemplary support from both the students and the administration to clinch the award.
Mimi Wong further commented on this new initiative, "With the end of UMMLCC S3 tournament, U Mobile would like to thank all participating Universities, teams, and students who made this season an amazing success to end the year. The competition could not be made possible without their support. Separately much appreciation goes to Moonton and STM, sponsoring STM Powerkick, a wireless power bank that contributed immensely towards the event.
Once again U Mobile congratulates UiTM Vendetta from UiTM Shah Alam and all state winners who take part in UMMLCC Season 3."